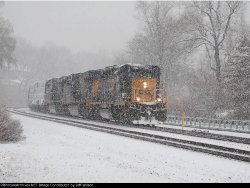 Welcome to the RRPictureArchives.NET contributor site of Jeff Wilson.



Hello and thanks for visiting my Archive!


I have been a railfan my entire life. I moved to the Port Jervis, NY area in 1997 and there began my interest in photographing railroad activity in this area. It all began the first time Ross Rowland rolled ol' C&O No. 614 into town. I was awestruck and amazed by this incredible machine. I went out, bought a mid-range 35mm camera and started shooting the rail activity around Port Jervis. Sadly, nowadays, the rail traffic in Port Jervis has slowed to a trickle, but I have spread my wings somewhat and now travel all over NY State, Eastern Pa. and Northern NJ to fulfill my railfanning desires.


My favorite line to railfan, by far, is the scenic and busy CSX River Sub along the Hudson River in New York State. I visit that line quite often and am often seen hiking around the area of Iona Island, Fort Montgomery, Storm King Mountain, and Bear Mountain looking for that next great shot.

Some of my other favorite railfanning hangout spots are along the D&H/CP in NY and Pa, the NYSW tracks through NJ,NY, and Pa., NS in and around Easton and Bethlehem, Pa. and Philipsburg, NJ, as well as the famous Rockville Bridge near Harrisburg, the DURR in Delaware County, NY, the Adirondack Scenic Railroad between Thendara and Utica, NY, the NS Southern Tier line in NY, and the DL in the Scranton and Tobyhanna, Pa. area. I also enjoy railfanning some busy yards in the same areas. I often visit the NS yard in Binghamton, NY, the CP yard in Taylor, Pa., the DL yards in Scranton, Pa, the NS yards in Bethlehem and Enola Pa, as well as my favorite rail yard, the monsterous CSX Selkirk Rail Yard, near Albany, NY.

I am glad to be part of this site and I hope to contribute interesting and useful photographs for you all to enjoy. Please enjoy my photos and, as always, I enjoy reading your comments!

If you would like to use or publish my photos, PLEASE ask.

Thanks, and I hope to see you out along the tracks!!!




You may browse my collection of pictures via the menu located on the left hand side of the page. I hope you enjoy the collection and thanks for stopping by!